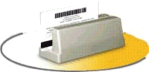 Compatível com o padrão ISO o leitor magnético 1024 é o produto ideal para automação bancária, controle de acesso, controle de ponto e muitas outras aplicações. O 1024 está disponível para leitura de uma , duas ou três trilhas.
O 1024 possui decoder para teclado ou RS 232 que podem ser configurados utilizando-se os cabos disponíveis .Este modelo é utilizado para a leitura de cartões de baixa & alta coercividade ( de 300 ~ 4000 Oe )
Especificações do 1024

Interface Type : Select the appropriate cable to suit the interface required.RS232(R), Dual RS232(RD), or keyboard Wedge(K)

Interface Configuration Keyboard Interface : IBM PC/XT/AT & compatible, PS2-30, PS1-55, IBM 5550, NEC 9800, NEC 5200, DEC VT series, NEC Astra, Macintosh (RJ&ADB), Memorex Telex(same with IBM 34xx IBM319x), Tele-Video 965. Unisys To 300. WYSE Enhance KBD (US). ADDS 1010. Hitachi Elles.

Indicator : Green Color for Good Read; Red Color for Status

Language Supported for PC/AT : English(US), English(UK), French, German, Italian, Swedish, Swiss, etc. Other on demands
Características

Peso : 180g(cabos não inclusos)

Material : ABS plástico

Cor : Ivory
By DIP Switch - SW1: Keyboard Wedge(K) or Serial (R, RD) interfaces selectionWhen switch number 1 (SW1) is set for

Keyboard Wedge

SW2: Capital lock status

SW3-8: Keyboard (or terminal) type

SW9: Inter-character delay (0ms/25ms) When switch number I (SW1) is set for RS232

SW2: Data bits setting

SW3,4: Parity setting

SW5,6: Baud rate setting

SW7,9: Transmission mode setting
Settings by Software Driver - Cipher Lab will provide one 1024 Master Card and one software driver for the setting.The following functions are set by optional software driver, requires RS232 cable and DC 5V Regulated Power Adapterl

Capital lock auto detection for (keyboard Interface Only)

Inter-Character delayl

Prefix

Postifix

Interfix (between tracks)

Beeper: Programmable in five volumes.

Edition mode

Others on demand